This post brought to you by
ANN INC. CAREERS
. All opinions are 100% mine.
A couple of days ago I heard that Ann Taylor and LOFT have a new app called the BFF App, I downloaded the app and checked it out and loved it. I love fashion so this app really helps me get inspired with outfit idead and so much more. It has so many cool features like mantras which includes fashion quotes, dates and wisdom. If you're looking for some daily inspiration or just a nice quote then a mantra from the BFF app is the thing you need, I loved this quote that I found on their list "Work to become, not to acquire"- Elbert Hubbard. Another other cool feature that the app includes is the trends section where you can share and see pictures of trendy things. There is the news sections where you can find fashion and career news, in here you will find articles about the topics, I love to have fashion news so I can get some inspiration for more blog posts from here. I like the video section which has videos about ANN INC. The videos get you behind the scenes of the company. My favorite of all is the ideas and insights section I just love that it has articles that give you inspiration and ideas about life and not giving up on what you believe, it has a lot of articles and they are written by people working for ANN INC. There is also the internship section, if you are interested in joining the company or just want more experience in the fashion industry then joining their internship program is recommended , you can get all the info on that at the app. You also get a profile section where you can save job interests, mantras, trends, news and ideas & insights. If you love fashion as much as I do or if you have a fashion blog and want more inspiration then check this app out its pretty cool and it definitely is something new that I haven't seen any other fashion company do. Download it for Android on Google Play or for Apple on iTunes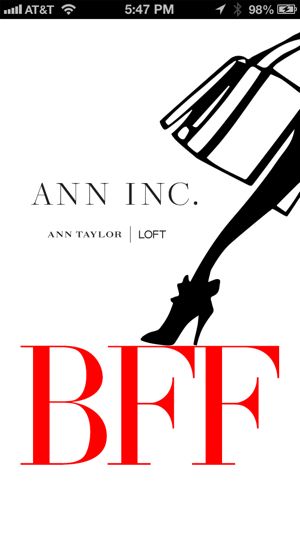 ANN INC. is represented by two of the leading women's specialty retail fashion brands in North America: Ann Taylor and LOFT.